A friend gave me this recipe. She got it from a King Arthur Flour catalog. That catalog has everything! These tarts are great! My friend decorates them with piped flowers for showers & teas.
Provided by CaramelPie
Categories Tarts
Time 58m
Yield 2 1/2 dozen, 30 serving(s)
Number Of Ingredients 17
Ingredients:
1 cup unsalted butter, softened
1/4 cup granulated sugar
1 cup confectioners' sugar
1/8 teaspoon salt
1 large egg
1 teaspoon vanilla
2 1/4 cups king arthur all-purpose flour
3/4 cup almond paste
1/2 cup sugar
1 pinch salt
1/4 teaspoon almond extract
1 drop bitter almond oil (optional) or 1 drop butternut flavoring (optional)
2 large eggs
1/2 cup raspberry jam
1 cup confectioners' sugar
4 -5 teaspoons water
food coloring (optional)
Steps:
For dough: Beat the butter, sugars, and salt until fluffy. Add the egg and vanilla, and mix well. Stir in the flour until well blended, then refrigerate the dough for 30 minutes or longer.
Shaping: Place a rounded teaspoon of dough (about 1/2 oz.)into each ungreased mini-muffin cup. With floured fingers or a tart tamper, press the dough up the sides of the cups to form the floor and walls of the crust. Place the crusts in the refrigerator to chill while preparing the filling.
Filling: Crumble the almond paste into a small bowl. Blend in the sugar, salt and extract(s). Add one egg at a time to the almond paste, mixing well after each addition until there are no lumps.
Assembly and Baking: Preheat oven to 350 degrees F. Place a slightly rounded 1/4 teaspoon of the raspberry jam into each dough-filled cup. Top with almond filling. The almond filling should come to the top of the dough. Bake the tarts for 24 to 28 minutes, until they're puffed and golden brown. Allow the tarts to cool in the pan for about 10 minutes before turning them out to cool completely. While they cool, make the glaze.
Glaze: In a small bowl, mix the confectioners' sugar with the water until dissolved. Add the food coloring, if you're using it. Drizzle the glaze over the tarts. The tarts store well for 3 - 4 days in airtight containers; freeze them for longer storage.
Ingredients:
1/2 cup (1 stick) unsalted butter, melted, plus more for pan
1 cup all-purpose flour, plus more for hands
1 tablespoon sugar
Pinch of salt
1 tablespoon pure vanilla extract
1 cup sliced almonds
3/4 cup heavy cream
3/4 cup sugar
1 large egg, slightly beaten
1 teaspoon almond extract
1/2 teaspoon Grand Marnier
Pinch of salt
Steps:
Prepare the crust: Preheat oven to 400 degrees with rack in center. Butter a 10-inch tart pan with a removable bottom; set aside. In a medium bowl, whisk to combine flour, sugar, and salt. In a small glass measuring cup, stir together butter, vanilla, and 1/2 tablespoon water; pour over flour mixture. Stir to combine. With floured hands, press dough into prepared pan. Bake for 10 minutes. Remove tart shell from oven, and reduce heat to 350 degrees.
Prepare the filling: In a large bowl, stir together almonds, heavy cream, sugar, egg, almond extract, Grand Marnier, and salt. Pour filling into crust. Bake tart on a parchment paper-lined baking sheet until golden brown, about 45 minutes.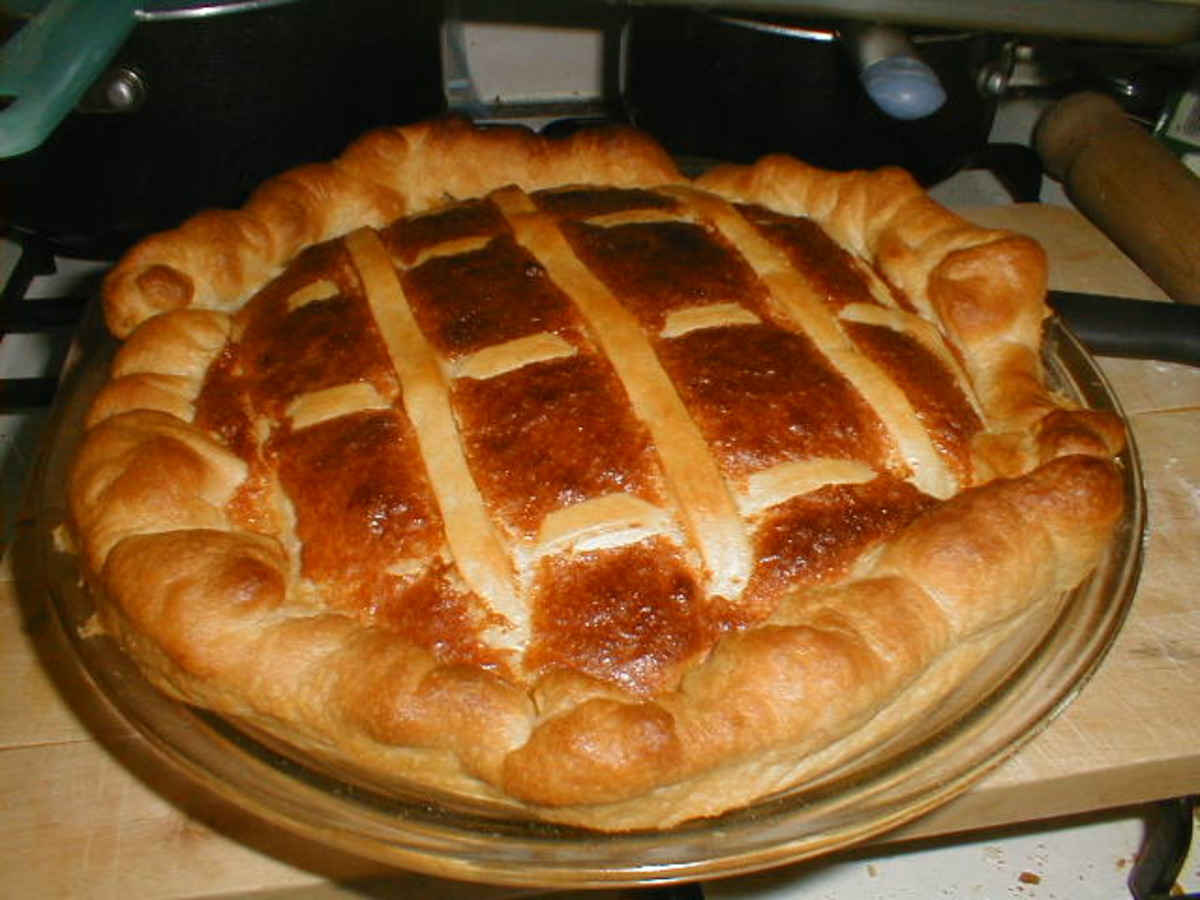 Make and share this Almond Tart recipe from Food.com.
Provided by silky
Categories Dessert
Time 1h
Yield 8-10 serving(s)
Number Of Ingredients 9
Ingredients:
6 ounces frozen puff pastry
1/2 cup butter, slightly softened
1/2 cup sugar
2 eggs
1/2 cup self-raising flour
1/2 teaspoon almond extract
1/4 cup milk
1/2 cup plum jam
2 ounces almond paste, grated (leave uncovered in the refrigerator a couple of hours for easier grating)
Steps:
Take 2/3s of the puff pastry and roll out thinly to line a buttered 10 inch quiche dish or tart pan, allowing a 1 inch overhang all around.
Roll out the remainder of the pastry slightly thicker and cut into strips that are ½ inch wide and set aside.
Cream the butter with the sugar.
Add 1 egg and beat well.
Add 1 tblsp of the flour.
Add second egg and beat well.
Mix the almond extract with the milk and add it to the batter along with remaining flour.
Preheat oven to 400 degrees F.
Spread jam on the pastry in dish to within 1 inch of the rim.
Sprinkle the grated almond paste on top.
Cover with the batter using a spatula, being very careful not to disturb filling Make a lattice with the pastry strips over the top and crimp the edges, turning in the overhang of pastry to form a rim.
Crimp.
Bake in preheated oven for 20 minutes.
Reduce oven temperature to 350F and bake 15 minutes longer.
Nutrition Facts : Calories 410, Fat 23.3, SaturatedFat 10.1, Cholesterol 84.5, Sodium 262.4, Carbohydrate 46, Fiber 1.1, Sugar 25.4, Protein 5
Recently Recipes
More about "almond tarts food"
ALMOND TARTS RECIPE | KING ARTHUR BAKING
2023-01-29
1/2 teaspoon almond extract 1 1/2 cups (180g) King Arthur Unbleached All-Purpose Flour 3/4 cup (72g) almond flour or finely ground sliced or slivered …
From kingarthurbaking.com
4.7/5 (36)
Total Time 1 hr 13 mins
Preheat the oven to 350°F., To make the crust: Beat together the sugar, butter, salt, and extracts., Add the flours, stirring to make crumbs that cling together when squeezed., Press the crumbs into the bottom and up the sides of six 4 1/2" mini tart pans (or a full-size tart pan; see tips, at left); prick them all over with a fork., Freeze the crusts for 15 minutes, then bake them until they're just beginning to brown on the edges, 10 to 12 minutes.
Remove from the oven and cool while you make the filling., To make the filling: Beat together the butter, salt, sugar, flour, and extracts., Beat in the eggs, then add the almond flour, stirring just to combine.
Spread the filling into the crusts., Bake the tarts for 18 to 24 minutes, until their tops are lightly browned.
Remove from the oven, and cool in the pans., To make the glaze: Stir together the sugar and milk until smooth., Spread the glaze over the cooled tarts, and top with fresh raspberries or sliced peaches.
See details »
---
CLASSIC FRENCH ALMOND TART RECIPE—TARTE AUX AMANDES
Nov 14, 2008
1 1/4 cups all-purpose flour 2 tablespoons granulated sugar 1/2 teaspoon salt 7 tablespoons (3 1/2 ounces) cold unsalted butter 3 tablespoons …
From thespruceeats.com
3.9/5 (29)
Total Time 2 hrs 50 mins
Category Pie
Calories 380 per serving
See details »
---
HOW TO MAKE A TRADITIONAL BELGIAN ALMOND TART
May 4, 2016
Step 1. Preheat oven to 375ºF. Step 2. Put the flour, icing sugar, and salt in a food processor and pulse a few times to combine. Photo by Mireille Heidbreder Step 3. Add the cubes of cold butter into dry mixture and pulse …
From spoonuniversity.com
See details »
---
SWEDISH ALMOND TART - FOOD AND JOURNEYS®
May 24, 2017
In a small pan, combine almonds, butter, cream, sugar and syrup. Bring to a slow boil and let the sugar completely dissolve. Keep the heat on medium-low and stir occasionally to make sure that it does not …
From foodandjourneys.net
See details »
---
10 BEST ALMOND TARTS ALMOND PASTE RECIPES | YUMMLY
Jan 15, 2023
eggs, cream, brown sugar, butter, orange juice, vanilla, almond extract and 5 more Apple Almond Tart Hungry Enough To Eat Six almond paste, slivered almonds, all purpose flour, granulated sugar and 6 more Italian …
From yummly.com
See details »
---
MINIATURE ALMOND TARTS RECIPE: HOW TO MAKE IT - TASTE OF …
Apr 7, 2022
Ingredients 1 cup butter, softened 6 ounces cream cheese, softened 2 cups all-purpose flour FILLING: 6 ounces almond paste, crumbled 2 large eggs, lightly beaten 1/2 cup sugar FROSTING: 1-1/2 cups confectioners' …
From tasteofhome.com
See details »
---
ALMOND TART RECIPE - BBC FOOD
2023-01-29
To make the filling, toast the almonds in a dry frying pan over medium-high heat for 2–3 minutes, until light golden-brown, keeping a close eye on them. Tip them into a bowl. Put the butter, sugar...
From bbc.co.uk
See details »
---
EASY ALMOND TART - LOW CARB GRAIN/GLUTEN/SUGAR FREE …
Apr 9, 2017
Instructions. Preheat oven to 350. Mix the pie crust ingredients in a food processor until the dough comes together. Press into the bottom and slightly up the sides of a tart pan. Process 2 cups of the slivered almonds and the …
From joyfilledeats.com
See details »
---
ALMOND TARTLETS | DESSERT RECIPES | GOODTO
Nov 1, 2018
These almond tartlets have a similar taste to a Bakewell tart. Ingredients ½ x 375g packet chilled dessert shortcrust pastry 1 level tbsp seedless raspberry jam 30g (1oz) butter, softened 30g (1oz) caster sugar 30g …
From goodto.com
See details »
---
ALMOND TART RECIPE - GREAT BRITISH CHEFS
2023-01-29
Almond tart pastry 1 tsp sugar 1/4 tsp salt 1 tbsp of milk 2 eggs 160g of butter 250g of flour Almond tart filling 50g of blanched almonds 100g of butter, softened 100g of caster sugar 2 eggs, large 50g of ground almonds 150g of …
From greatbritishchefs.com
See details »
---
DIANE'S ALMOND TARTS - ALLRECIPES
Jun 19, 2020
2 teaspoons almond extract 1 cup confectioners' sugar 2 tablespoons melted butter ½ teaspoon almond extract 24 maraschino cherries with stems Directions In a large …
From allrecipes.com
5/5 (3)
Total Time 1 hr
Servings 24
Calories 247 per serving
In a large bowl, cream 1 cup butter and 1/2 cup confectioners' sugar until light and fluffy. Beat in 2 cups all-purpose flour and 1/4 cup cornstarch. Shape into a ball and refrigerate for 1 hour. Roll out to 1/4 inch thickness, cut into appropriate size circles with a glass or cookie cutter and press into tart shells. Spoon 1 teaspoon jam into bottom of each shell.
In a large bowl, cream 1/2 cup butter and 1/2 cup white sugar until light and fluffy. Beat in rice flour and cocoa powder. Beat in eggs and 2 teaspoons almond extract. Fill tarts 2/3 full.
Bake in the preheated oven for 10 to 15 minutes, or until golden brown and filling is set. Allow to cool.
In a small bowl, Stir together 1 cup confectioners' sugar, 2 tablespoons butter and 1/2 teaspoon almond extract. Spread on tarts. Garnish each tart with a maraschino cherry.
See details »
---
4 TART CHERRY JUICE DRINK RECIPES FOR SLEEP | WELL+GOOD
7 hours ago
Photo: Ambitious Kitchen. 1. Almond Cherry Smoothie. This delicious cherry smoothie recipe by Ambitious Kitchen is made with tart cherries, banana, creamy almond …
From wellandgood.com
See details »
---
ALMOND AND PEACH TART BONBON
2023-01-29
After straining, add the invert sugar and boil. Pour over slowly the boiling mixture on the melted white chocolate, melted cocoa butter and almond paste, stirring in the center with a rubber …
From almonds.com
See details »
---
MARY BERRY'S EASY BAKEWELL TART RECIPE - BBC FOOD
2023-01-29
Add ground almonds, egg and almond extract. Pour into the flan tin and sprinkle over the flaked almonds. Bake for about 35 minutes. If the almonds seem to be browning too quickly, cover the...
From bbc.co.uk
See details »
---
PEAR AND ALMOND CREAM TART RECIPE - ELISABETH PRUEITT - FOOD
Nov 22, 2019
Bring the milk to a simmer in a medium saucepan. In a medium bowl, whisk the sugar with 1 tablespoon of the cornstarch. Whisk in 1 egg and the salt.
From foodandwine.com
See details »
---
ALMOND & APPLE TART RECIPE | BBC GOOD FOOD
2023-01-29
Stand the tart tin (if using) on a baking sheet, then spoon in the frangipane and smooth with the back of the spoon, leaving a 0.5cm gap at the top. Peel and core the apples, then cut into …
From bbcgoodfood.com
See details »
---
10 BEST ALMOND TARTS ALMOND PASTE RECIPES | YUMMLY
Jan 7, 2023
Swedish Almond Tart Food and journeys. almonds, sugar, almond paste, pie, golden syrup, cream, butter and 1 more. Blueberry Almond Tart Cookie Dough and Oven …
From yummly.com
See details »
---
5 LOW-CARB DESSERT RECIPES TO MAKE WITH ALMOND FLOUR
1 day ago
Chocolate Chip Blondies. This blondie has all the classic flavors including a rich taste and a chewy, buttery texture. Almond butter replaces regular butter in this recipe, which …
From everydayhealth.com
See details »
---
24 SWEET AND SAVORY TART RECIPES FOR BREAKFAST TO DESSERT
Nov 30, 2022
Mini Strawberry Tarts. Greg Dupree. These sweet treats start with a pistachio crust. A dreamy mixture of cream cheese, lemon juice and zest, and whipped cream is folded …
From southernliving.com
See details »
---
BLUEBERRY & ALMOND TART RECIPE | BBC GOOD FOOD
2023-01-29
Beat together the butter and sugar until it is light and fluffy, about 1 min. Stir in the almonds, egg and almond extract. STEP 2 Stir in half the blueberries and spoon into the pastry case.
From bbcgoodfood.com
See details »
---
CHERRY & ALMOND TARTS RECIPE | BBC GOOD FOOD
2023-01-29
Cherry & almond tarts recipe | BBC Good Food These mini bakewell bites combine pastry and cake are designed for making in batches and cooking from frozen, from BBC Good Food. …
From bbcgoodfood.com
See details »
---
ARMAGNAC CHOCOLATE ALMOND TART RECIPE: HOW TO MAKE IT - TASTE …
Jan 25, 2023
Shape into a disk; wrap and refrigerate 1 hour or overnight. Preheat oven to 350°. On a lightly floured surface, roll dough to a 1/8-in.-thick circle; press onto bottom and up sides …
From tasteofhome.com
See details »
---
Related Search
---